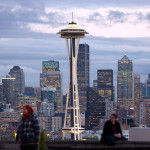 Again, Seattle is at the top in the ranking for tech cities in America.
A new article from Bloomberg, based on the 2014 data from the U.S. Bureau of Economic Analysis, shows San Jose (eg the Silicon Valley) as the top city, followed by Bridgeport CT, then SF and Seattle.
More than the ranking per se, it is the overall growth of the West (including Portland, LA, SLC and Denver) that is interesting. As well as how growth is even accelerating in some of these metro areas.
That is where Seattle is definitely showing its muscle: the number of tech ventures that are growing around the usual suspects (Microsoft, Amazon, and now Tableau, Expedia, Inrix, Parallels, Concur, Apptio…) is abundant and covers some of the most fun new tech areas (cloud, IoT, etc.).
And yes, this will lead to population growth, traffic, increase in real estate values, all good problems to tackle. And technology will hopefully help in addressing them!