This is the news that Forbes publishes, based on high-tech employment data collected from EMSI and charted by the Praxis Strategy Group.
During tough economic times, technology is often seen as the one bright spot. In the U.S. this past year technology jobs outpaced the overall rate of new employment nearly four times. But if you're looking for a tech job, you may want to consider searching outside of Silicon Valley. "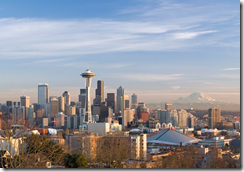 The study articulates how this is the product of long- and short-term jobs generated by the local powerhouses: Microsoft, Amazon, Boeing.
Well, Microsoft is still hiring, even if they are reshuffling their workforce more often now then ever, and they lay off more and more people as the product of a HR process.
But the number of jobs at Amazon, or all other growing gaming, mobile, biotech, cloud computing companies is now growing with increasing speed, and their total number is amazing. More than other, the vibe is good.